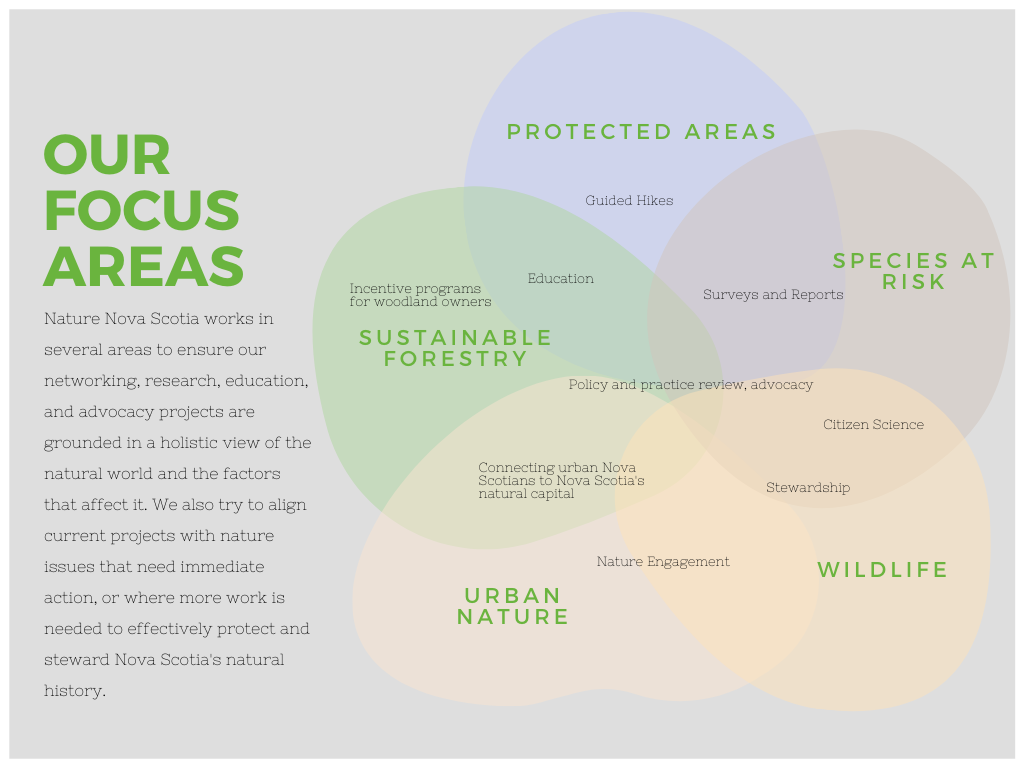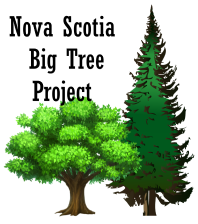 The Nova Scotia Big Tree Project
The Big Tree Project is a place for citizen scientists to record information and images of existing large trees growing in Nova Scotia. With old growth forests in Nova Scotia disappearing at an alarming rate, this project will hopefully improve data availability for remaining old and large trees still in existence and encourage citizens and decision makers to better protect Nova Scotia's old forests. Instructions and data entry available on the project site. Now on iNaturalist!
The Celebration of Nature
The Celebration of Nature is our AGM and annual symposium for naturalists. Rotating location and hosted by a different member organization every year, this event gives naturalists around the province an opportunity to explore a new and interesting area, reconnect with the natural history network, and learn something new while getting outside for a guided hike! In 2021, the event is going virtual! Register today and join us as we explore our 2021 theme: Exploring Urban Nature


Bancroft vs NS Lands and Forestry
In 2019, Nature Nova Scotia and partners at Halifax Field Naturalists and Blomidon Naturalists Society launched a judicial review of the province's management of Species At Risk. In 2020, the Supreme Court found the Nova Scotia government failed to adequately protect several SAR by not completing recovery reports on time, not identifying core habitat for listed species, or not reviewing existing reports by the legislated deadline. We are now following the Department's progress as they catch up on these requirements under the NS Endangered Species Act and updating our members accordingly.

Nature Talks: A Natural History Presentation Series
Nature Talks is our monthly presentation series where we profile interesting natural history subjects for a Nova Scotia-wide audience. We host subject experts in natural history fields, moderate panel discussions on current issues, and profile the latest research, education, or stewardship initiatives happening in Nova Scotia's natural spaces.

A Biodiversity Act for Nova Scotia
The Biodiversity Act for Nova Scotia was re-introduced at the provincial legislature last week, after a 2-year-long delay stemming from concerns that not enough public consultation had taken place during the first introduction in 2019. Nature Nova Scotia recognizes the dire need for biodiversity law in Nova Scotia, and beyond. Facing threats from urbanization, overharvest, invasive species, acidification, climate change, and more, it is clear we need broad legislation that is synergistic with existing Acts to effectively protect and manage our shared natural capital. A Biodiversity Act would not only put us one step closer to saving our natural capital, but also put Nova Scotia at the forefront of biodiversity law in Canada, and the world. Nature Nova Scotia has been advocating for biodiversity legislation for years, along with many conservation and landowner partners. You can help by joining the call.

Bird Friendly Halifax
Bird Friendly Halifax is a coalition of organizations and citizens working towards making the HRM an officially designated Bird Friendly City. Nature Nova Scotia is a founding member of the group and continues to support coalition events, networking, and educational initiatives.