The Nature Network  – Mission  –  Membership – Board
Nature Nova Scotia is a federation of natural history societies and other nature groups in Nova Scotia. We are a Canadian charity and registered society in Nova Scotia, working to support networking, research, education, and advocacy initiatives for nature. These are our current (2023) members:
Nova Scotia's Nature Network
Organizational members:
Margaree Environmental Association
Associate members:
Our Mission
Nature Nova Scotia (also known as the Federation of Nova Scotia Naturalists) exists to aid in the communication and cooperation among naturalists, natural history societies, and other nature-focused groups in Nova Scotia. We profile and protect our local nature by supporting new research, hosting events, and advocating for science-based conservation and responsible environmental management at local, regional, and national levels. We are a registered non-profit and charitable society in Nova Scotia (#891266744 RR0001).
Our core focus area include Protected Areas, Species At Risk, Wildlife, Urban Nature, and Sustainable Forestry. Since our establishment in 1990, Nature Nova Scotia has consulted and provided comment on nature legislation and policy, supported new research and citizen science projects, and engaged the naturalist community in educational and skill-building opportunities:
Nova Scotia mines and minerals policy
Parks and Protected Areas system
Endangered Spaces campaign (WWF)
Endangered species legislation (federal & provincial)
Tobeatic Wilderness committee
Federal Heritage Rivers designation
Off-road vehicles policy
Advisory panel on Piping Plover habitat management
Important Bird Areas
Nova Scotia Herpetology Atlas
Leatherback Sea Turtle reporting project
Big Tree Project (ongoing)
Coastal Strategy and Act (ongoing with NS Coastal Coalition)
DNR natural resources strategy (2009–2010)
Species At Risk vs the Government of Nova Scotia judicial review (2019-2020)
A Biodiversity Act for Nova Scotia (2019-2021)
Save the Mainland Moose campaign (ongoing)
Make Room for Nature campaign (Nature Canada, ongoing)
Bird Friendly Halifax coalition (ongoing)
Learn more about our current projects and how you can help today!
Membership
You can support Nature Nova Scotia and our core activities by volunteering, donating, or becoming a member! Join directly as an individual or family by registering online today, or reach out to our staff for more ways you can get involved.
As a member, you have a vote at our AGM and a say in how we operate. Individual members not associated with an organizational member also have representation on the board by way of a director-at-large. Join us! Membership is a meaningful way to participate in the nature network and shape it for generations to come. Learn more about our policies and find other AGM-related documents here.
---
Governance
Nature Nova Scotia is governed by a board comprised of representatives from our member societies and an executive committee:
Executive Officers
Members of the Board (organizational representatives)
Member-at-Large: vacant
Representative from Arlington Forest Protection Society: Rob Bright
Representative from Blomidon Naturalists Society: John Burka
Representative from Cape Breton Naturalists Society: vacant
Representative from Cliffs of Fundy UNESCO Geopark – Joan Cormier
Representative from Eastern Shore Forest Watch Association: Patricia Egli
Representative from Halifax Field Naturalists: Ron Arsenault
Representative from Friends of McNabs Island: Ian Smith
Representative from Friends of Nature: Sydney Dumaresq
Representative from Friends of the Pugwash Estuary: Betty Hodgson
Representative from Margaree Environmental Association: Paul Strome
Representative from Nova Scotia Wild Flora Society: Suzanne Gauthier
Representative from Nova Scotia Bird Society: Jason Dain
Representative from St. Margaret's Bay Stewardship Association: TBD
Representative from Tusket River Environmental Protection Association: Daniel Earle
Representative from Young Naturalists Club: Karen McKendry
Staff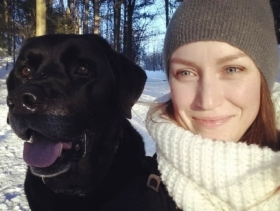 Becky started with us as a board member and made the move to staff person in 2020, when we went through a significant expansion of our projects and focus areas. She's an ecologist by training, choosing spatially rare plants like novel invasives and species at risk as her preferred study systems, but has also worked in policy, youth education, and conservation outreach. Becky manages our protected areas and wildlife projects and supervises staff working on species at risk, sustainable forestry, urban nature projects. Becky and her partner manage a 50ha woodlot where they hope to experiment with maple syrup this year, grow blueberries, and share their life with a horde of canine friends.
Reach Becky at becky.parker@naturens.ca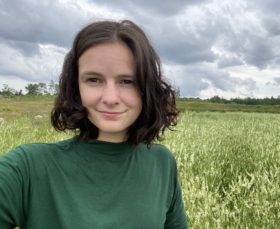 Jess grew up in St John's, Newfoundland, spending most of her childhood outside exploring NL's rugged nature. Fascinated with botany and ecology, she decided to move to Truro NS to study Plant Science at Dalhousie University. There she worked as a research assistant on a project looking at wild bee populations in blueberry fields. Since then, she's done some plant survey work, engaged the public in discussion around environmental policies and climate change susceptibility, and now she coordinates our species at risk and sustainable forestry projects. In her free time, Jess volunteers at the SPCA, enjoys botanical drawings, pressed flower jewelry, and gardening. Asked about her work, Jess says, "I am passionate about connecting to people and learning their experiences. These connections drive me to believe we can work together as a society to reach attainable conservation goals and preserve nature for future generations."
Reach Jess at jess.lewis@naturens.ca
We hope to hire for this role in Spring 2023, stay tuned for news about our 2023-2024 Education & Outreach programs.
How to reach us
Mailing address
Nature Nova Scotia
c/o Nova Scotia Museum of Natural History
1747 Summer Street
Halifax, NS  B3H 3A6
Need more information?
Email: info@naturens.ca