Learn more about volunteer and staffing needs at Nature Nova Scotia by checking out our Job Board. Or, become a member and support our work in many ways! A year membership is a great way to support natural history networking, research, education, and advocacy in Nova Scotia! Plus, it gets you a vote at our AGM, early access to our latest news, event notifications, and reduced rates for certain events like the annual Celebration of Nature! Register today for yourself or as a gift and help us profile and protect the best nature Nova Scotia has to offer.
Fill out the form below and hit "register" to save your information, then pay for your membership category by selecting the appropriate option from the drop-down menu and hitting "subscribe".
---
Pay Online with Paypal or Credit/Debit Card
Looking for a paper form? Print and fill out a copy and either scan and email or mail it, with a cheque, to our Treasurer at:
Nature Nova Scotia, ATTN: Jean Gibson Collins
2 Orchard Road
Kentville, NS  B4N 1R8
or treasurer@naturens.ca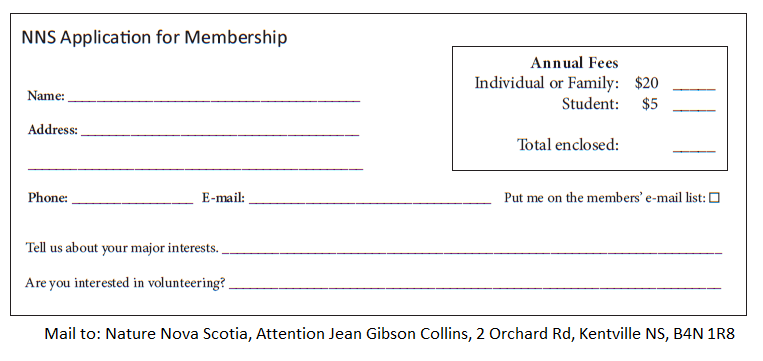 Not quite ready for a membership yet but want to stay in the loop on nature news? Sign up for our e-mail list!