N.S. Steps Up Forest Cutting
N.S. Forest Cutting Plans are continuing to be developed despite the severe need to allow the landscapes to recovered from overcutting. This is destruction of wildlife habitat as well as elimiination of any chance for a long term healthy forest landscape for future generations.  The plans threated to eliminate the rest of the mainland moose in western Nova Scotia.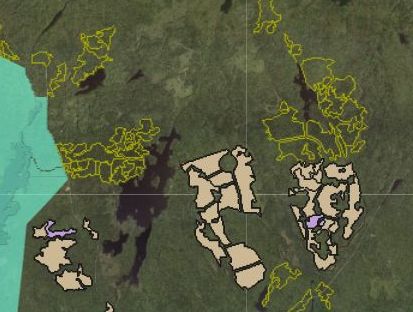 Shown here is a segment of the provincial Forest Harvesting Plan Viewer near the Cloud Lake Wilderness area and Shell Camp Lake in Kings Coutny. The tan areas are new plans  for clear cutting (now called Retention …)  These you can still comment on as of 27 Oct 2020. The yellow outlines are earlier plans that we can no longer comment on.  In addition the light colored areas of the aerial image show areas already clear cut.
You can view the current plans and past plans on this viewer.  See our  page on N.S. Forestry