Field Trips at the Celebration of Nature 2018
Field Trip Reports:
Spring Ephemerals – Wallace River
Trip Leaders: John Brownlie and Gillian Allen
Approximately 12 Nature Nova Scotia AGM participants gathered at the property of Gillian Allen (who kindly accompanied them) to search out and examine the abundant wild flora found along the Wallace River. As field trip leader John Brownlie of the Nova Scotia Wild Flora Society pointed out, there are only 5 species of flowers that can be correctly called "spring ephemerals" but participants saw many more than that as they walked the flood-plain "ditch area" of this beautiful property. As Betty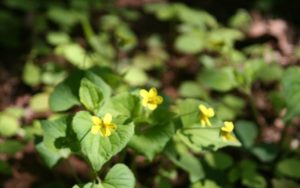 Hodgson reported, some blood root was still in bloom along with trout lily, yellow violet, blue cohosh and a single jack in the pulpit. The end of the "ditch" was still flooded where a family of hooded merganser were in residence. Jim Wolford waded into the cold ditch waters and discovered salamander eggs. In addition to the wild flora and the salamander eggs, there were many bird species including wood warblers, flycatchers and a downy woodpecker.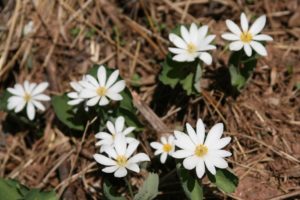 Participants would like to extend their thanks to Gillian Allan for making this site available and for joining them to provide information on the frequency of flooding. A detailed report with more photos is available on the Nature Nova Scotia website at: www.http://naturens.ca/
---
Waterfalls and Woodlands Walk – Proposed Wentworth Valley Wilderness Area
Trip Leader: Oliver Maass
Approximately 20 intrepid hikers and wild flora enthusiasts braved the rain and cold to check out the proposed Wentworth Valley Wilderness Area under the guidance of Oliver Maass. Oliver gave an introduction to the area and the plans for its future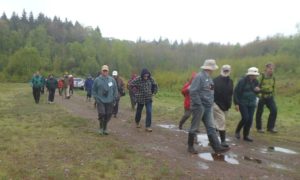 development before the group hiked along an old forest road/trail for about 500m to the first cascade.
Because the stream was running particularly fast and its banks quite high due to the recent rain, some of the hikers turned back at that point, but some brave souls forded the brook and continued on for another 700m to the second cascade and a view of Nova Scotia's highest point.
On the hike in, many plants were found and identified, the most exciting for many having been Trillium cernuum, Nodding trillium. A complete flora list is available on the Nature Nova Scotia website: www.http://naturens.ca/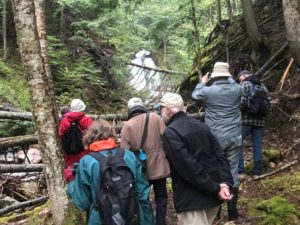 Those of the group who turned back either returned to the Debert Hospitality Center for a much-needed rest before the evening's festivities or went on to Wentworth Provincial Park for more birding. Your reporter was among the latter group. Both segments of this field trip were rewarding for
many reasons. The proposed wilderness area is delightful with mature, mixed forest habitat, some really good, exposed outcroppings of native rock, a fresh and pristine stream with a beautiful and impressive cascade and an abundance of wild flora and fauna for the natural history enthusiast.
---
Early Morning Birding: Debert Hospitality Centre property
Saturday morning led by Bethsheila Kent; Sunday morning led by Patrick Kelly
It is difficult to claim that any particular person led either of the birding field trips on both mornings of the AGM weekend since the group explored the margins of the Hospitality Centre and simply wandered from spot to spot as the birds demanded by their presence and activity. Saturday morning was cool and overcast but, nevertheless,
20 of us wandered around to observe the 27 species that cooperated rather nicely by appearing and singing and foraging in the open, all to our total delight. Everyone was able to enjoy great observations and get a few good photographs.
Sunday morning was bright and much warmer and once again a group of about 20 of us bailed out bed and took to the property margins by 6:45 a.m. We were not disappointed as we observed 29 species, many in the fully blooming pin cherries which appeared to be a favourite with the wood warblers flitting around in all parts of this small, understory tree. Once again we were treated to great views of many of the species as only a few remained shy and were heard only.
Complete species lists of all the birds noted on all field trips can be found at the Nature Nova Scotia website: www.http://naturens.ca/
---
Late Afternoon Birding – 

Wentworth Provincial Park
A small group of birders continued on from the proposed Wentworth Valley Wilderness Area for some late afternoon birding and were amply rewarded for their efforts. A pair of downy woodpecker mated mere metres from where the group stood; least flycatchers performed their aerial feats of foraging; a Wilson's warbler, a lifer for one of the members of the group and conveniently posed for the occasion. It simply does not get any better than this!
A complete species' list can be viewed on the Nature Nova Scotia website: www.http://naturens.ca/
---
Youth Program: Day Trip to The Wallace Bay National Wildlife Area
Trip Leader: Robin Musselman
The youth had an amazing field trip to the Wallace Bay NWA thanks to the support of Nature Canada and with the excellent guides Llza Barney from Bird Studies Canada and Becky Parker from Ducks Unlimited Atlantic Canada. We did some bird related activities along with some excellent bird watching hikes. Despite the cool and rain, it was a bird-iful day and we gathered a grand total of 30 bird species! Highlights included 9 species of Warblers, observing 50ish foraging Tree Swallows and a glimpse at an elusive Pileated Woodpecker! 
---
Nova Scotia Forestry Demo Woodlot Tour – Wentworth
Leader: Greg Watson
Doug Linzey submitted this report on the Woodlot Demo that took place on the
afternoon of Saturday, May 26. In Doug's words, "I can attest that the demo woodlot walk in the Wentworth valley on Saturday was great. It did help that there were only six of us with two very well-informed guides (Greg Watson [landowner, contractor, and woodlot manager] and a forestry student, Adrian, and their two helpers (Greg's daughter, a sturdy and energetic five-year-old lass, and a far-ranging, stick-
chasing, varmint-hunting border collie). It also helped that our small group included the extraordinarily knowledgeable Bob Bancroft & Donna Crossland. Over the course of 3+ hours there was a great deal of conversation about many aspects of sustainable forestry in a number of different forest types and previous forestry practices on this 450+ acre site. We covered a lot of ground, forded a couple of streams, bushwhacked a bit, did a lot of tree and other plant and bird identification, and mostly successfully fended off the black flies and mosquitoes.
---
Geology of the Cobequid Hills – Victoria Park, Truro
Trip Leaders: Bob Ryan and Ann-Marie Ryan
The post-conference geology walk was moved from Wentworth to Victoria Park in Truro. Nine of us joined Bob & Anne-Marie Ryan (Bob is a provincial government geologist and part-time lecturer; Anne-Marie is a geology prof) for an introduction to some sedimentary Triassic-era exposed geology below the gorge of Lepper Brook and the older Carboniferous sandstone at Joseph Howe falls. It was a gorgeous sunny day and it seemed as if the whole town of Truro had shown up to be in the park that day. Fortunately, it's a big park and we were able to concentrate on what our guides were telling and showing us about the 220–350 million-year history of what we were looking at. Reported by Doug Linzey