Our annual Nature Nova Scotia general meeting and conference for naturalists is being held this year on Nova Scotia's Eastern Shore, at the Liscombe Lodge, from Friday, May 24, to Sunday, May 26. As usual, accommodations and meals are available onsite. The lodge is in Liscomb Mills, about an hour south of Antigonish and a couple of hours from Halifax.
As of now (early March), the organizing committee has a great program organized and many of the required details on accommodation, meals, and registration (see separate sections below).
The end of May / early June is becoming busier than ever, and we are only too-well aware of potential conflicts. We certainly hope that many of you are able to attend this most-worthwile annual get-together with fellow naturalists in a marvellous part of our province.
Registration
Registration forms are being mailed out to members.
Meanwhile, you can download a copy here.
Please note that room reservations are separate from registration and must be made separately. We suggest you do that right away! (See the accommodation section below.)
The registration form includes the cost of registration, meals (adults and youth 6–11), and the Friday reception.
The deadline for registration is May 3.
The Program
We're pleased to welcome some very accomplished presenters and trip leaders who can help us better understand the natural history of the area and the challenges to it. And of course we look forward to opportunities just to schmooze, renew old acquaintances, and make new ones.
Have a look at the schedule.
Presentations
Gary Schneider—How a small project makes a big difference: the evolution of Macphail Woods Ecological Forestry Project
Growing Native Plants—what everyone can do to help nature. We'll look at what species are missing from our forests and how plantings will help improve diversity and wildlife habitat. Then we'll look at collecting seed and cutting material, and how to grow trees, shrubs, and wildflowers.We'll also look at safe collecting and transplanting methods that do no harm to forests. All this, while having fun in the forests!
[Gary started the award-winning Macphail Woods Ecological Forestry Project in 1991, and he has been active in forest restoration in Prince Edward Island and across the region. Macphail Woods offers summer nature camps and an extensive schedule of workshops and talks, and it is home to a four-acre native plant nursery and arboretum. Gary also teaches a course on ecological forestry at both UPEI and Acadia.]
Dave Ireland—Marketing nature and the rise of citizen scientists
As a leader in biodiversity conservation, Dave will tell five stories spanning his experiences from Algonquin Park to Toronto to Atlantic Canada and, hopefully, inspire you to reconsider how we connect with nature.
[Dave works at the intersection of science, policy, and public engagement for the conservation of nature. He is a storyteller and an agent of change. He lives in Dartmouth, NS, and currently works for a coalition of environmental non-profit organizations in Atlantic Canada with the shared goal to protect ocean biodiversity. Previously, Dave was the managing director, biodiversity, at the Royal Ontario Museum and the senior curator, environment, at the Toronto Zoo. Dave is a leader and collaborator, with over 20 years of experience helping regional, national, and international communities achieve their conservation goals.]
Sean Haughian, curator of botany, NS Museum of Natural History—Lichens in Nova Scotia: diversity, conservation, and current research
[Sean is a plant ecologist whose work has focused on forest-dwelling herbs, lichens, mosses, and liverworts. Originally from Edmonton, Alberta, he has studied and worked in many Canadian ecosystems, including the montane and inland rainforests of British Columbia, the boreal forests and peatlands of northern Alberta, and the Acadian forests and swamps of Atlantic Canada. In 2010, he moved to Atlantic Canada (New Brunswick) and completed his PhD at the University of New Brunswick in 2016. Dr Haughian's current research is on conserving at-risk plants and lichens in forest ecosystems, developing new methods to grow lichens and mosses for green infrastructure (like green roofs), and understanding how species distributions relate to climate and other environmental features.]
Field Trips
Saturday:
Early morning birding
Fascinating Floodplain Forests, St Marys River NSNT property—led by Karen McKendry, wilderness outreach coordinator, Ecology Action Centre*
Drawing in nature, an outdoor sketching workshop (at Liscombe Lodge)—with Alice Reed, artist (cap 12, 3 h, min age 10 accompanied by adult)
Coastal Barrens hike—led by David Patriquin, Wild Flora Society
Mayflower Trail—Rick Ballard, Halifax Field Naturalists
Self guided opportunities: trails in Liscomb area, canoeing/kayaking (note that your room reservation gives you free access to canoes & kayaks), St Marys River
Stargazing—with the astronomers (Larry & Pat)
Owling—with Bob Bancroft & Donna Crossland
Sunday:
Early morning birding
Fascinating Floodplain Forests—led by Karen McKendry, wilderness outreach coordinator, Ecology Action Centre*
Otter Ponds Demo Forest tour: ecologically healthy forest practices—leader TBA
Natural history of Taylor Head Provincial Park—led by Peter Oickle, Friends of Taylor Head Park (max 15)
Birding at Taylor Head Provincial Park—led by Jim Cameron, Friends of Taylor Head Park (max 15)
Rehabilitating the land for wildlife, Pomquet—led by Bob Bancroft
Self guided opportunities: trails in Liscomb area, canoeing/kayaking, St Marys River
*Fascinating Floodplain Forests—Discover the amazing species and ecology of the floodplain forests of the St Marys River. On this 3-hour guided hike naturalist Karen McKendry will share with you the recent history of the property and the story of its protection, and will introduce to you the community of plants and creatures that are bringing this woodland back to its former glory.
The hike will be moderate in difficulty in that it is along semi-maintained trails and mostly level ground.
You must register to join this hike. The location is about a 30-minute drive from Liscombe Lodge (toward Antigonish). The participant cap is 25 people. (If registration reaches 25 very quickly, Karen will work with NSNT to see if we can plan two hikes.)
Youth Program
The Young Naturalists Club is organizing a simultaneous youth progam. For up-to-date news, see the YNC website: www.yncns.ca
And here is the basic schedule for youth activities.
Here are some of the highlights:
Saturday morning boat trips, St. Marys RIver.
Lichens: Can I pick/eat/squish/crumble/throw/ poke them? An introductory show and tell (led by Sean Haughian, curator of botany, Nova Scotia Museum), with discussion about basic types of lichen, what they are, and what they do. This will be followed by a lichen hunt.
A session with Gary Shneider, project coordinator of the Macphail Woods Ecological Forestry Project.
Nature hikes around the Liscombe Lodge.
Games and other fun stuff.
Accommodation and Meals
Accommodation
This year, reserving accommodation is separate from your registration package. It is your responsibility to contact the lodge directly to reserve rooms. The following rooms are on hold for NNS registrants (note that the number in red is the cost you'll be looking at for the two-night stay).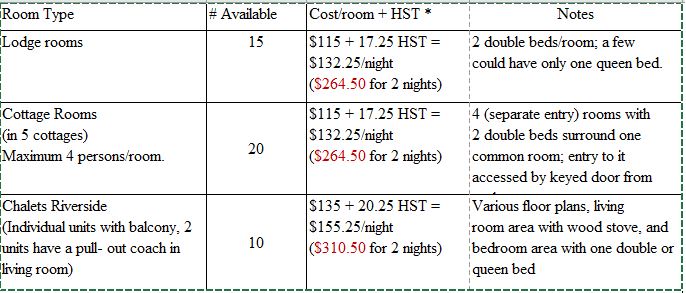 *Service charge is included in the room price. No extra room charge for children under the age of 17.

View sample rooms here: https://www.liscombelodge.ca/en-us/rooms
Most rooms have a small fridge (make sure to verify this if you need one).
There is one Lodge room with a queen bed and a Jacuzzi.
Reservations:
All reservations must be guaranteed by a major credit card.
Unless the reservation is cancelled 72 hours prior to the date of arrival, the credit card will be charged the cost of the first night's room + HST.
Book reservations by calling 1-902-779-2307 or (toll-free) 1-800-665-6343.
Meals
Please note that the registration form includes the cost of meals (adults and children 6–11). The all-meal package includes the meet & greet on Friday, Saturday breakfast and lunch and banquet, and Sunday breakfast and lunch. Break snacks and beverages are included in the registration fee.
General information on Liscombe Lodge