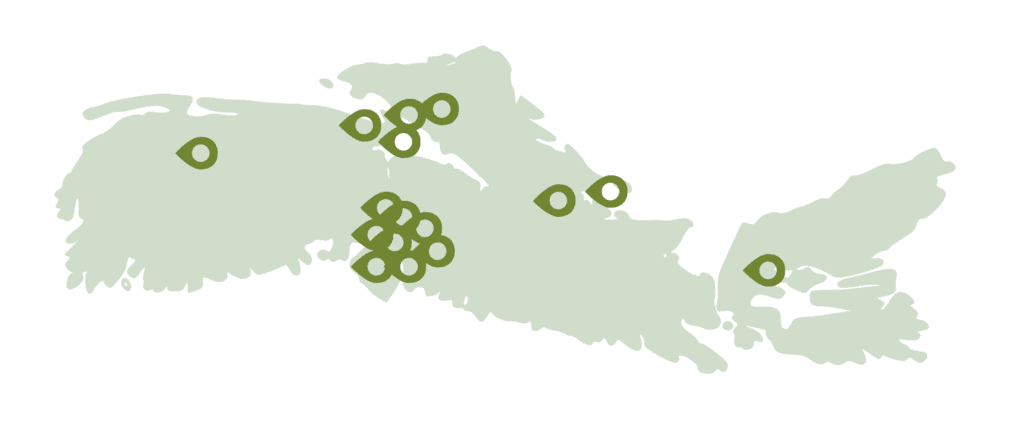 Save the dates! The 2023 Celebration of Nature is coming!
The Celebration of Nature is Nature Nova Scotia's AGM and annual gathering for naturalists in Nova Scotia. Due to ongoing complications of the COVID-19 pandemic and limited volunteer capacity, we are again hosting a distanced Celebration in 2023, without our usual presentation series but with the traditional guided hikes, taking place across the province. You can register for as many or as few field trips as you like, and they're all free!
Field trips take place Friday evening, all day Saturday, and all of Sunday afternoon. The NatureNS AGM will take place virtually on Sunday May 28th from 9am-11am. 
Please note:
Field trip registration opens on April 1st and closes May 26th*. Many trips are likely to fill up early, so don't wait too long! You can register for the AGM any time.
The day-long trip to the *Cliffs of Fundy Geopark includes a catered lunch at an extra fee of ~$15. Registration for this trip closes May 15th at 7pm.
Field trips that are designed with families and youth in mind are labelled "kid-friendly" in the registration window, but most trips are suitable for older youth anyway. If you have any questions feel free to reach out.
We encourage all participants to follow social distancing best practices and encourage the use of masks for indoor or close settings. Let's keep each other safe!
Questions? Trouble? info@naturens.ca
*Celebration of Nature participants agree to Nature Nova Scotia's field trip waiver upon registration, as detailed below. If you have any questions or concerns, just reach out.
Field Trip Waiver:
"Celebration of Nature participants understand that they are aware of and understand the risks, hazards and dangers inherent in field trips such as, but not limited to, the possibility of personal injury, death, property damage or loss, resulting from participation in field trips, and/or travel to and from the location of a field trip. Notwithstanding the risks involved, participants assume all risks resulting from engaging in such activity, including travel to and from the location of the field trip. By registering for their field trips, participants acknowledge that they have read this Agreement and understand that it is a full and final release and waiver of any claims for damages or injuries sustained as a result of our participation in this field trip, and/or travel to and from the location of the field trip, and that they agree voluntarily, knowing that, in doing so, they are relieving and forever discharging NatureNS, their agents, servants, directors, officers, successors, and assigns of all liability for any losses or damages which the or the Minor may sustain."
Site-specific risks you may encounter during the Celebration of Nature could include the factors in this non-exhaustive list: inclement weather, slippery and/or uneven terrain, sun, biting insects, wildlife, members of the public, off-leash dogs, open water, fast tides.