2021 Celebration of Nature
Map Unavailable
Date/Time
Date(s) - 28 May, 2021 - 30 May, 2021
7:00 pm - 9:00 pm
Categories
Every year, Nature Nova Scotia holds their annual general meeting and conference for naturalists at a unique, natural history-rich setting somewhere in the province. This year, the event is being held in Halifax, hosted by member organizations the Halifax Field Naturalists and Young Naturalists Club, and run virtually to better allow for social distancing. Please save the dates in your calendars as we're pleased to welcome some very accomplished presenters who can help us better understand the natural history of this busy urban area and the challenges that go along with protecting it. And of course we look forward to opportunities to renew old acquaintances, make new ones, and talk about all things natural history!
.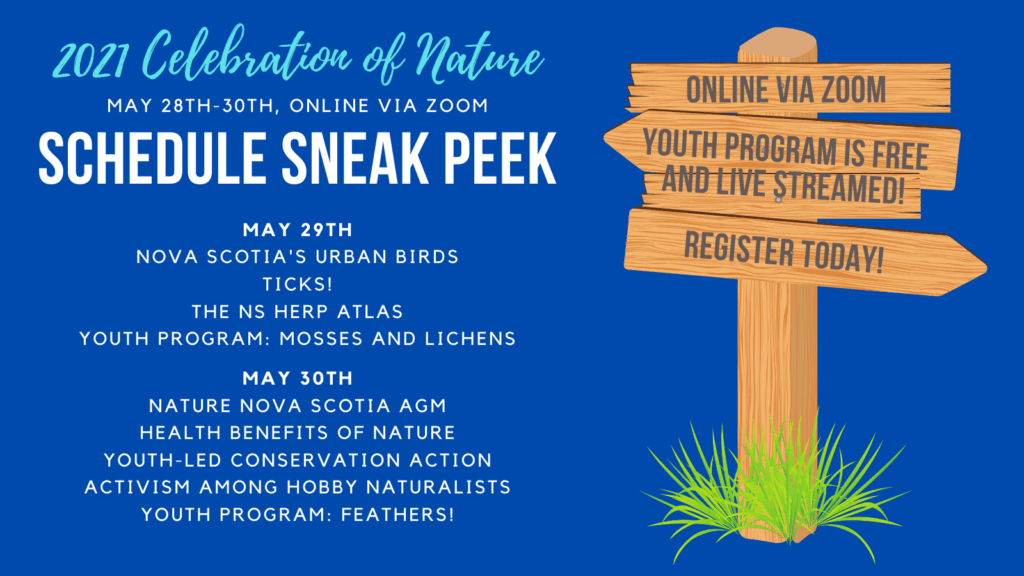 Following tradition, Friday evening will be dedicated to an opening presentation, with Saturday and Sunday focused on natural history-themed presentations. We'll start at 10am, break at lunch, and come back together at 6pm for the evening presentations, on both the Saturday and Sunday. Open to members and non-members alike, but members of NatureNS or our member societies can register for free! Sign in to your profile or sign up for a membership today to access reduced ticket rates! (you won't be able to see the member tickets unless you are logged in.) *** Until end of day May 23rd, members of NatureNS member societies can register for free! See ticket details below for more.
.
If you would like to register offline, please reach out to our Coordinator Becky at coordinator@naturens.ca or 902-412-2726
Bookings
Bookings are closed for this event.